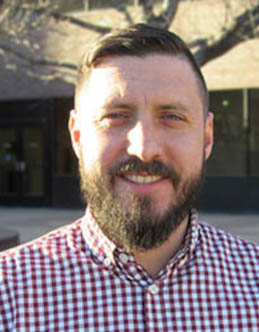 Academic Advisor (for last names I-R)
"Every Child is an Artist. The Problem is how to remain an Artist once he grows up"-Pablo Picasso
About
Hi! I'm Greg and I use he/him pronouns. I grew up in Spring, TX, but always wanted to live in Colorado. I completed my Bachelor's degree at Colorado College, but then graduate study took me to Brooklyn, NY. It took 15 years, but I finally made it back to Colorado in 2017! Before joining the advising team at UCCS, I was an Academic Advisor at MSU Denver, and before that Pratt Institute. I like to spend my free time in the mountains, whether it's doing something active -- hiking, snowboarding, snowshoeing -- or just sitting on a rock.
Fun Facts
I am an identical twin.
I have two dogs named Bruce and Franklin.
I don't really have favorite colors, but it seems like most of my clothes seem to be orange.
I've been to Spain.
Best Concert: Beastie Boys with the Roots and John Spencer Blues Explosion.
Education
Master of Science in History and Theory or Art, Design, and Architecture, Pratt Institute
Master of Fine Arts in Sculpture, Pratt Institute
Bachelor of Arts in Studio Art, Colorado College